"Lockdown has been tough but the support we've had has got us through."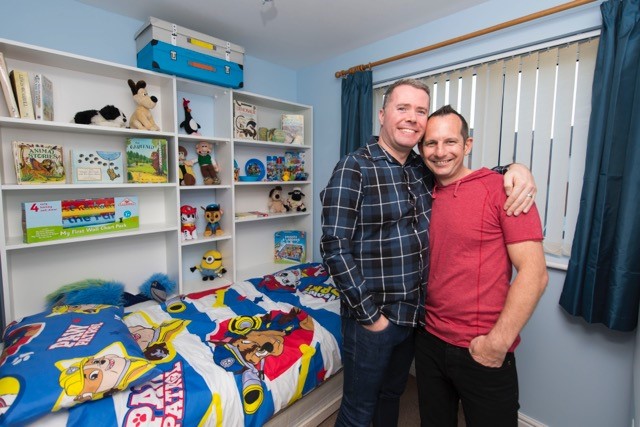 Mike and Tony were one of the first families to experience the Adopting Together model, having adopted a little boy just after the service first launched in 2018.
"We both always knew we wanted children, ever since we got together 18 years ago, but we needed to make some lifestyle adjustments to make sure we were completely ready," says Tony.
"Mike had been working late shifts in his job in retail so he moved into recruitment to allow him to work during office hours – we just wanted to feel completely prepared to welcome a little person into our lives.
"I'm definitely the researcher in our relationship so I was the one who first started trawling the internet for information. I saw that St David's Children Society had had fantastic reviews and that it had just launched a new child-focussed adoption service that offered additional support to the adopters and to the children, so I gave them a call.
"From the very start, our expectations have been blown out of the water. We've been really impressed by the initial training, the social workers, the flexibility and the ongoing support we've received from Adopting Together.
"At the initial training, they really do prepare you for what's to come and don't sugar coat it in any way, which was great for us as we wanted to go into this with our eyes wide open. They take you through the worst possible scenarios for what could happen when the children move in, how they could react to different circumstances and teach you ways to deal with every eventuality."
Adopting Together is the first project of its kind in Wales to deliver a targeted approach to finding suitable adopters for specific children and offer a bespoke package of therapeutic support for both the children and the adopters through every stage of their childhood, until the child turns 18.
Led by St David's Children Society, the service aims to find families to adopt children who have been waiting the longest for a family. Typically, these tend to be children who are over four years old, brothers and sisters who need to stay together, have additional needs or uncertainty around their development or – due to concerns over inter-racial adoption – from a Black, Asian and minority ethnic background.
Tony adds: "When it came to the stage of finding the right child for us, both of us were excited but anxious too. We just didn't know what to expect. We'd been told about the family-finding and profiling events that Adopting Together organises where the prospective adopters go along to either meet foster carers and social workers and see profiles and videos of children, and it was great.
"We'd had a very fixed idea beforehand of the type of child we wanted to adopt but that all went out of the window during the process and we found ourselves drawn to a few children in particular who were nothing like what we'd originally had in mind.
"We first saw a video of our little boy at a profiling event and immediately feel in love with his little smile.
"We got all of his background information, quickly decided that we wanted to go ahead and very soon afterwards, we were told we could progress with the match.  We were thrilled! You then have to go through a series of checks and approvals, where you find out loads of information about the child, meet their social worker, foster carer and get a really detailed psychological report,  but you're supported every step of the way and encouraged to talk about any concerns or doubts you may have.
"We were so excited to welcome him to our home but knew it would be very emotional and unsettling for him so the guys at Adopting Together made sure that the transition was taken at his pace and completely led by him.
"When he first came to us, our son was extremely quiet and shy. He started at nursery and would just sit in the corner and play by himself, not wanting to interact with any of the other children but you should see him now! He loves to be the centre of attention, he has loads of friends, buckets of confidence and we can't stop him talking!
"That's not to say it's all been plain sailing. About a year ago, he was waking regularly with night terrors, which was incredibly upsetting. We wanted to make sure there was nothing more we could be doing to help him and were able to just arrange a session with the psychologist who was a huge help.
"Lockdown has been tough for him, as you'd imagine. He just couldn't understand why he couldn't see his friends, or go to the park, or see his grandparents, and started to revert back to how he'd been when he first came to us. We both found the whole experience so stressful as we just weren't sure what to tell him or how to make him feel better when everything around us seemed so bleak.
"The guys at Adopting Together were brilliant though. We were able to have a Zoom call with the clinical psychologist to discuss how we were dealing with the situation. They reassured us that some of the techniques we were using were great but also suggested some alternative solutions.
"We talked to him very honestly about what was going on in the world and made sure he knew that we were feeling upset by it all too, so he didn't feel isolated in the way he was feeling. We even bought him a punchbag and named it coronavirus so that he could take out all his anger and frustration on that.
"It's just so helpful to have access to this ongoing support as issues like this do crop up, as you'd expect, so to be able to speak to a professional who'll give us a new, expert viewpoint, when we're feeling unsure about what to do is an absolute godsend."
Asked to reflect on the last two years, Mike said the reality of adopting a child had more than lived up to his hopes and expectations.
"When we look back on the last two years and how far we've all come, we feel so proud. When we entered into this, we wanted to bring up our son in the way that we'd both been brought up. I grew up in a small town in Yorkshire and spent all my school holidays with my grandparents so I think I've got quite old school beliefs when it comes to parenting.
"We both think it's really important not to let him rule the roost, to teach mutual respect and reward him when he's good, but also establish really clear boundaries so that he knows what's acceptable and what's not. We've stuck to our guns on that and it's really helped to have picked up loads of great parenting tips from Adopting Together that we wouldn't have thought of before.
"We absolutely love our son to bits and can't imagine life without him. Yes, we've had the sleepless nights, the tantrums, and a good few challenges to deal with so far, but because we were so prepared and have had such great support, we've been able to deal with all of that. The training and support is unique to Adopting Together and the after-care couldn't be better.
"We are really grateful to them for helping us to get the family we always wanted."
If you are interested in adopting a child through Adopting Together, visit www.adoptionwales/adoptingtogether for more information or call 029 2066 7007.