Gwenda Thomas meets the Jones family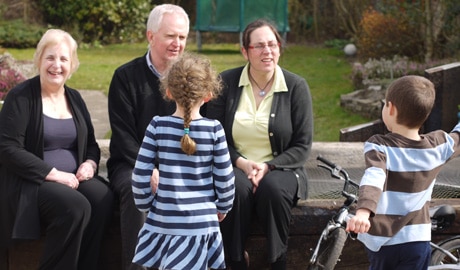 The Jones family have three children, two of whom are adopted. The Deputy Minister heard about how the adoption process changed their lives, and also talked to representatives from the adoption agency St David's Children's Society.
The Deputy Minister said:
"We can learn a lot from families who have already undertaken this journey, that is why we will commission research into the experiences they faced to identify barriers and their perceived reasons for delays in the adoption process.
"Any delay to a child's case can be detrimental to their prospects for adoption and we are looking at all possible ways to help a child settle with their adoptive family sooner.
"The new national adoption service will work with existing agencies, in ensuring that children languishing in care, where adoption is in their best interests are not left one more day than is necessary.
"I want to eliminate waiting lists for prospective adopters, who routinely face delays for training and assessment, improve the matching process, allay adoption breakdown by a comprehensive adoption support service and streamline the adoption process.
"The best way to achieve this is through the establishment of a national adoption framework that operates on an all Wales basis."