WOW…..what a year, so many changes, new faces and people to welcome and some sad farewells to say!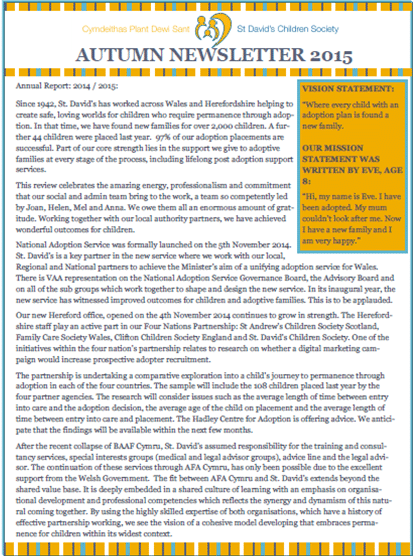 Let's start with the positives: A warm welcome to Dan, our very able social work assistant whom many of you will have met through training and support groups. Dan was joined by Anda, Catrin, Rebecca and Charlotte as assessing social workers and Anna in a  management role who brings order and clarity to the team.  Collectively, they bring too many years of experience to mention, but are key to massively strengthening the team. Sadly, we have said farewell to Charlotte as her commute was just too long!
Good day to Wendy too, in her new role as our Senior Operational Manager, a huge loss for the former BAAF but
a massive gain for us, and welcome to Jenny based in North Wales who has nurtured families through their adoption assessments and is bringing with her a new set of skills for St. David's to develop….