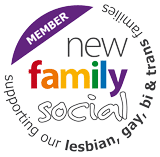 LGBT+ Adoption & Fostering Week 2019
New Family Social's LGBT+ Adoption & Fostering Week campaign returns from 4-10 March, 2019. This year's theme is '7 days to love' with each day of the week focusing on different areas.
We're thrilled that record numbers of adoption and foster care agencies are joining us and supporting the campaign this year.
Why the week's needed
In 2018  there were 75,420 looked after children in England, an increase of four per cent from 2017. There's an ongoing need for more people to provide foster care across the UK and for more people to consider adoption.
Despite a record proportion of same-sex couples adopting in England and Wales, LGBT+ people still report high expectations of discrimination from foster and adoption agencies. To counter this, LGBT+ Adoption & Fostering Week is a unique opportunity for agencies across the UK to come together and encourage more LGBT+ people to consider both pathways to parenting.
LGBT+ Fostering and Adoption Week is ran by New Family Social  who are the only charity led by LGBT+ adopters and foster carers.  St. David's Children Society are proud members of New Family Social and have a strong history of assessing and placing with families who identify as LGBT+.  We will be actively supporting LGBT+ Fostering and Adoption Week.  If you would like to speak to somebody about adoption and live in Wales or Herefordshire please contact us on 02920 667 007 or email, info@stdavidscs.org