Help to raise funds for St David's and celebrate Captain Sir Tom's amazing achievements in a special fundraising event over his birthday weekend.  
St David's are inviting you, your family, and friends to take part in the Captain Tom 100 challenge from Friday 30th April to Monday 3rd May.  This is help raise funds for St David's and to celebrate Captain Sir Tom Moore's amazing achievements over his birthday weekend. 
Friday 30th April would have been Captain Sir Tom Moore's 101st birthday and to celebrate this year his family have pledge to celebrate his life in an event that everyone around the world can get involved in – the Captain Tom 100.  
Get involved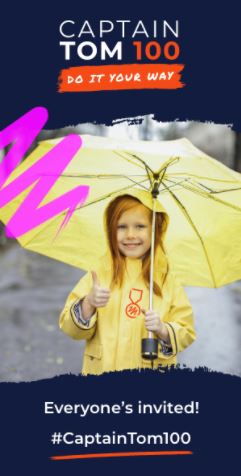 All you need to do is dream up your Captain Tom 100 – an activity of your choice based around the number 100 – and do it anytime and anywhere from Friday 30th April through to Bank Holiday Monday 3rd May. 
Your 100 could be walking 100 steps or running 100 metres, scoring 100 goals, baking 100 cakes, climbing 100 stairs, hopping 100 laps of the garden, building 100 sandcastles, writing a 100-word poem, flipping 100 pancakes – anything at all, inside or outside (within current Government Guidance). It's your chance to do it your way! More ideas can be found here 
Fundraise or donate
Once you've decided what you're doing, you can fundraise or donate to St David's and share your 100 on social media, using #CaptainTom100 and tag us @adoptionwales.  
You can set up a fundraising page or donate directly to St David's by following the link https://bit.ly/2QdnW6F .   
You can find out more in general at CaptainTom100.com  
We hope you'll join the thousands of people around the world taking part in Captain Tom 100 and spread his message of hope while raising funds for St David's Children Society which will be used directly to help the children and families who need support 
Start Fundraising Now https://bit.ly/2QdnW6F  
Any amount is very much appreciated  
Thankyou